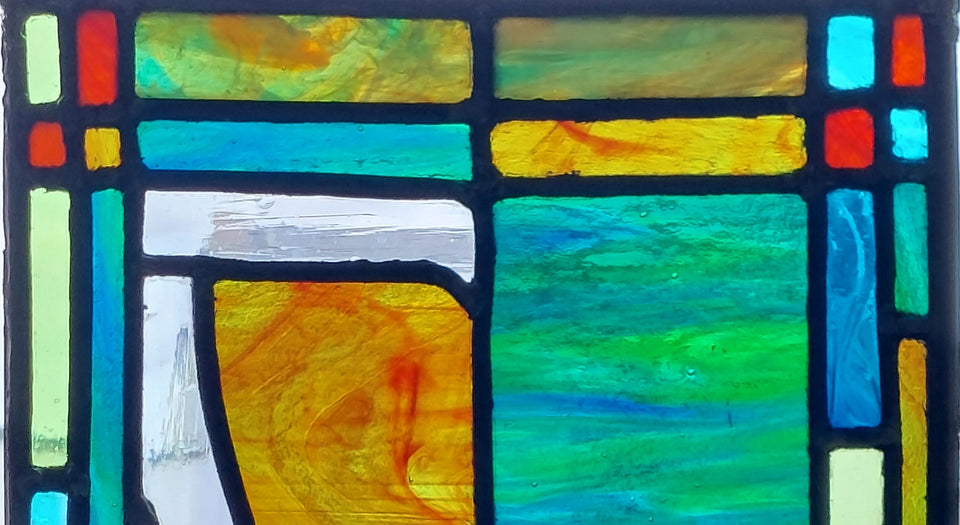 Stained Glass Workshop - Weekend 20&21 January
A two day course that will introduce beginners to the world of stained glass. We will take you through the whole process of designing and producing a couple of stained glass panels to take home; a small practise piece mirror, bordered in coloured glass, and a larger piece to your own design.
We'll take you through the whole process from initial sketch, to final piece. Choosing the colours of glass, cutting the pieces, setting them in the lead, soldering it all together and the final sealing and polishing to produce a beautiful artefact that, if looked after, will last for hundreds of years.
Everything is provided, the tools to work with and the glass and lead to create your pieces, refreshments throughout the day and unlimited advice.
You need to bring nothing other than yourselves, clothes you don't mind getting dirty, proper shoes (no open toed sandals please!) and a desire to learn a fascinating and centuries old craft.
The course will be run by Roland Elliott-Berry a long time expert in glasswork and glass painting, who is also an accomplished painter, print maker and designer, with a social media following of over 22k.

The course will be informative, relaxed, entertaining, creative and above all fun.  The small group will enable lots of one-to-one with the tutor.

"Throughout the course there will be a lot of interaction and advice. At the end of the day what I want is for you to take away a couple of pieces that you will be proud of, and a desire to carry on to the next level. Personally, I got into glasswork many decades ago and the longer I do it the more I get absorbed by this fascinating, and sadly disappearing craft. My hope is that we can start to reverse this trend.
I'm always more than happy to discuss history of the craft, places to view fantastic examples, (many of them close to here in Cheltenham), and any aspects of the field of coloured and stained glasswork. It's a subject I'll admit I'm fairly passionate about!" - Roland Elliot-Berry
Day one.
9:45    Arrival
10:00    Introductions and brief run through of the structure of the course
10:15    A talk about the tools we will be using, their functions and how to use them, including demonstrations.
11:00    You have a go at trying these out. Cutting glass, stretching the lead, soldering etc.
12:00    We start to cut the glass for our 'practise' piece.
13.00    Break for lunch.
13:30    Assembly of the practise piece, cutting the lead and generally getting it all ready for soldering.
14:00    Soldering. I'm allowing quite a lot of time here as it's a vital part of the process to finish the piece.
15.30    All that done we can move on to designing the piece we will be creating tomorrow. We have designs available to help you, if you prefer
16:00    Finish – over run if necessary!!

Day two.
10:00    Discussions about designs. Choosing glass, colours etc.
10:30    From here on it's largely me helping you to achieve what you want. I will give as much individual assistance as I can.
13:00    Break for lunch.
13:30    More of the same.
15:00    Completing of your two pieces. Cementing and polishing.
16:00    Finish – again over run if necessary.

Materials and equipment are included.
The class will be held in the Print Room of Cheltenham School of Fine Art on the first floor of Carmargue House, 32 Wellington Lane, Cheltenham GL52 2AG.